Assets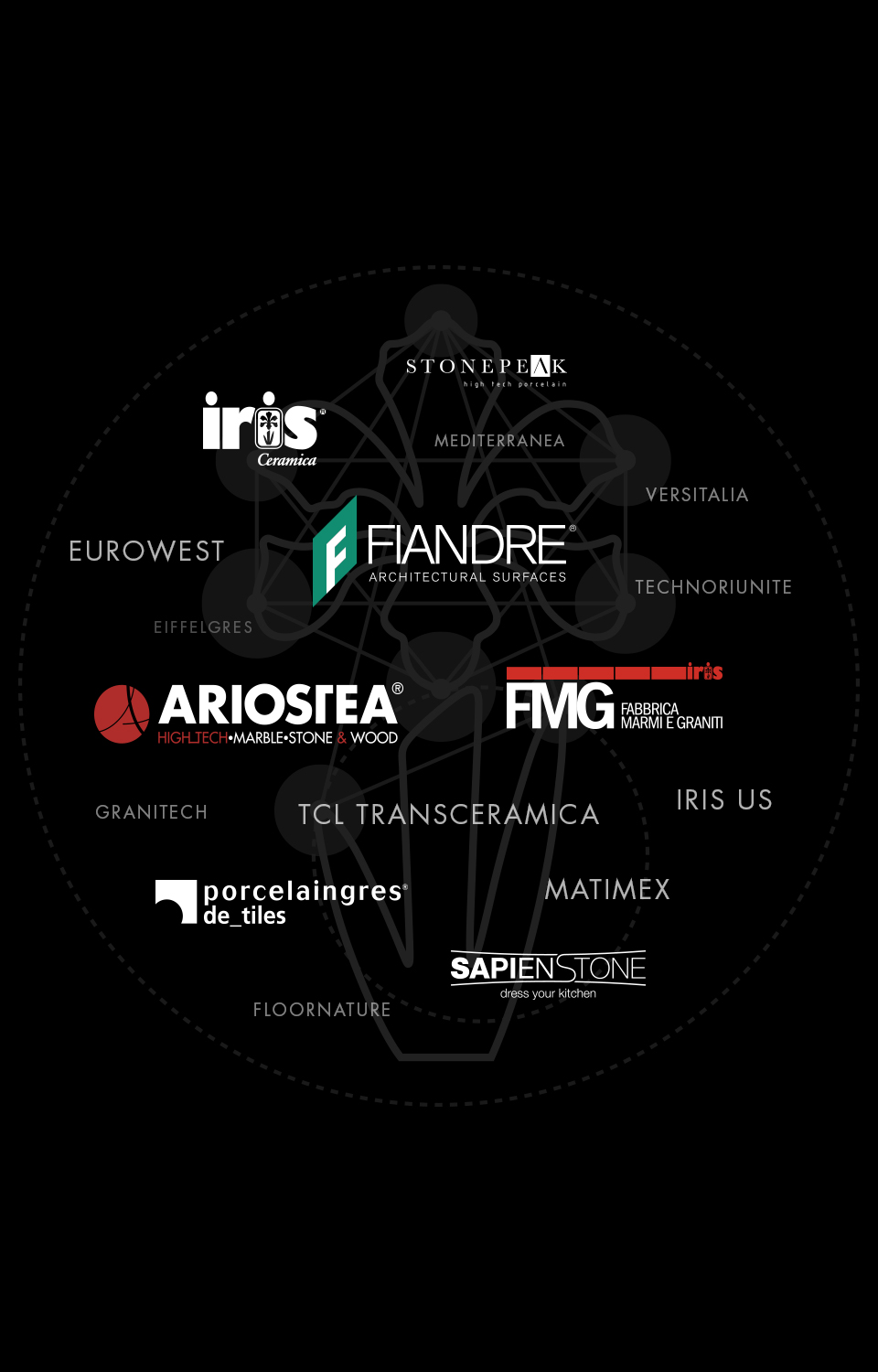 "The harmony of a Group is the result of the balance between its brands. Its success is guaranteed by the strength of its leader."
Romano Minozzi
Founder Iris Ceramica Group has developed activities integrating the production, distribution and communication of important ceramic companies in the world. Every brand brings forward the Group's philosophy, but still every company emphasizes its particular heritage of values and talents, yet at the same time paying close attention to the products and services offered by each brand.
Since 1961, the Group has anticipated the needs of a constantly evolving market due to the experience and history that has marked the course of every company. R&D, engineers, production departments and sales teams are constantly seeking new ways to honor the legacy and future foreseen by the founder Romano Minozzi. Therefore, quality and innovation set the foundations on which corporate assets are built.
Our Brands
Iris Ceramica Group is composed of a range of unique and dynamic brands, including some of the most popular on the market, with their own strong identity, distinctive character and different aims, based on Romano Minozzi's beliefs for the future:  quality and innovation. Each brand has individually developed its brand identity in its own pursuit of the perfect product and design, according to our philosophy and values and allowed our company to stand out in very competitive markets. The success of our brands comes from a balance between the biggest brands such as Iris Ceramica, Fiandre Architectural Surfaces, FMG Fabbrica Marmi e Graniti or Ariostea, and the youngest brands like Porcelaingres, Stonepeak Ceramics and SapienStone. Our Group offers a wide range of products that allow our brands to satisfy any request or need.
Production Plants
Our production plants are perhaps the place where the values desired and pursued by Romano Minozzi can be clearly seen. Innovation is reflected in the technology solutions that have been adopted within the company, and also are constantly improved and modernized. The quality of our "fired" materials is approved when it comes to the most restrictive certifications, reinforcing the concept of Economy equals Ecology, which means continuous quality research. Iris Ceramica Group's industrial and manufacturing processes are characterized by the presence of many production plants concentrated in the ceramic industrial district of Sassuolo, between the provinces of Modena and Reggio Emilia, and also two other centers located in the most important commercial countries: the United States of America and Germany.
Retail & Distribution
Iris Ceramica Group is composed of dynamic and innovative companies, able to position themselves in an excellent way and with a wide market share in Italy and with a great design for our distribution network. There are many sales outlets and selected distributors in which our products are available. In fact, that raises the brand awareness and also offers quality and beauty for the ceramic creations, so distinguishable from other products as the precious made in Italy. For those who love to enjoy and touch the ceramic products from our different brands, we guarantee that you'll be communicating with an available and competent distributor, capable of building a relationship based on reliability and effectiveness, even after sales. We can also offer tailored services for customers and different types of solutions, thanks to the strength and the interactions between many departments and brands within the Group.
Flagship Stores
Not mere display areas, but places for meetings, inspiration and sharing expertise and creativity.
The newly conceived Iris Ceramica Group flagship stores are exclusive areas open to both the public and professional community who will find the perfect, productive setting, conducive to developing architectural and design projects.
Materials and collections from all the Group's companies take center stage, creating versatile showroom settings, suitable for converting into co-working areas, conference rooms or lounges for events.
The identity of these stores has evolved from a purely commercial point of reference to a space where the brand defines itself through its values and qualities, nurtures relationships with stakeholders, and hosts discussion and learning opportunities.
A visit to our flagship stores increases expertise. It provides an opportunity to access in-depth information and improve product knowledge, almost always following initial analysis and research via digital platforms and websites, magazines, and blogs in the sector.
Responding to this innovation, our showrooms have been transformed and now offer complementary on and offline support, service and expertise; a point of contact where mission, vision and corporate identity are consistent with Iris Ceramica Group policy.
Publishing
In 2000, when Wi-Fi and ADSL started to be commercialized, making within a few years computer interconnection the norm, whilst it was rather the exception before. After that, the web has been distributed in ten countries that accounted for 73% of the total presence and Internet users in the world were less than 400 million.
These days, users are estimated to be approximately 3 billion. It has been an intense period with Google being founded in 1998, Wikipedia in 2001 and YouTube in 2005. Let's not forget the fact that, also in 2001, the number of dot-com companies doubled in comparison with the previous year.
In this scenario, Romano Minozzi was inspired to found his own web agency group: Floornature.com SpA.
This project was focused on creating an extremely advanced team capable of bringing Iris Ceramica Group into the new digital world. The aim was to inform and document the rapid changes into the landscape architecture worldwide getting inspiration from the emerging professionals such as architects, interior designers, engineers and builders.
This choice was essential since it was considered the origin or online magazine for architecture an design. The website www.floornature.com has been working for 20 years and has been able to position itself as a point of reference to international web magazines.
Technical Division
The technical support provided by Iris Ceramica Group to professionals such as engineers, designers, architects, floor installers and builders also extends to services related to the use and installation of ceramic materials in their countless applications.
Moreover, through brands like Technoriunite and Granitech, the Group is able to suggest the best product and materials for every application where the aesthetic component and the performance of the product must be combined to satisfy any request or need.