"THE ART OF BEING A GROUP": THE IRIS CERAMICA GROUP MULTI-SITE EVENT AT CERSAIE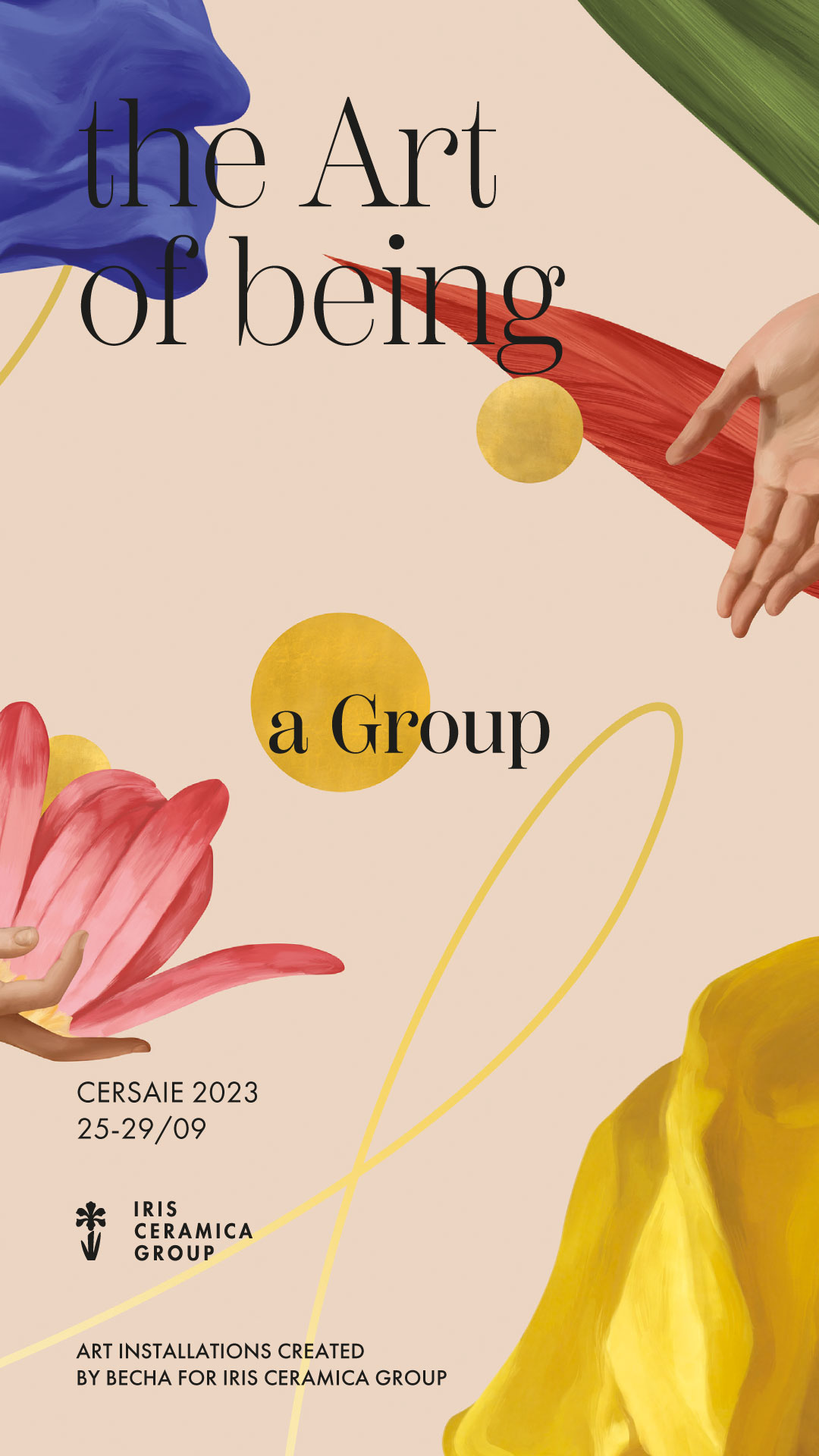 "The Art of being a Group" is the concept of the Iris Ceramica Group multi-site event at Cersaie 2023. Art is the guiding thread of this unforgettable journey involving international artists, running between the booth at the trade fair to the Brands' Showrooms.
The exhibition space at the trade fair in Bologna (Hall 26 | Booth A188- B189) narrates this theme through artistic installations created by the international artist Becha exclusively for the Group.
Three digital installations and a large mural entitled "Blooming Bonds", created exclusively for the Group by the international artist Becha, tell of the company values in pictures, inviting visitors to interact by removing and re-arranging some parts of the work. This was made possible by the use of Attract, the  innovative and sustainable use magnetic laying system that features at the Planet-Friendly Booth. An exhibition space, created in partnership with Henoto, demonstrating the Group's concrete commitment to recovering and reusing all the materials used to build the Booth.
The narration continues in the Brands' Showrooms, which become art galleries, each one expressing its own identity through the concept "The Art of being":
Emotional is the representative quality of Iris Ceramica and FMG 

expressed

 by James Dawe
Innovative is the distinctive character of Ariostea represented by Sabrina Rattè
Architectural is the soul of Fiandre and Porcelaingres told by Kaz Shirane
Moreover, the SapienStone Bistrot will be opening its doors for the first time during Cersaie week.
"The Art of being a Group" is a unique narration of the many faces of the Group's Brands, all sharing a clear business vision: re-engineering ceramics to improve the interaction between humans and the environment.
Register for the events at our Showrooms.
25-29 September
At Cersaie (Hall 26 | Booth A188 – B189) and in our Showrooms.