IRIS CERAMICA GROUP AMONG THE STARS OF DIGITAL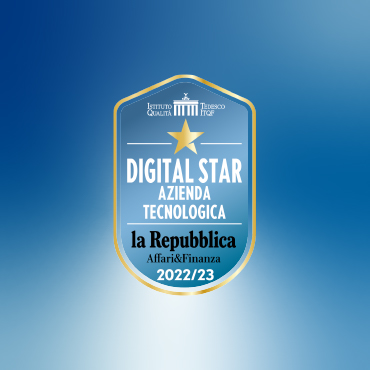 According to the study carried out by the eminent Istituto Tedesco Qualità e Finanza (ITQF), Iris Ceramica Group has been recognized as a Digital Star 2022/23. The research selected the most innovative, technological and digital companies in Italy, and the classification was published in the Affari & Finanza supplement of the Repubblica newspaper, the media partner of the project.
Reaching its third edition, the research was carried out with the social listening technique, the innovative methodology used for analysing the online reputation of companies regarding more than 40 themes linked to technology, innovation and digitalization. With 438 million Italian web sources analysed, the study found 1.5 million mentions that were then subdivided by tone (positive, negative or neutral) and significance, in order to draw up the classification, as well ranking with the larger base of data from all the studies of business digitalization in Italy.
Today the digital and "physical" channels are two worlds that are closely interconnected and their interaction is the true secret of success. The presence of Iris Ceramica Group among the 300 Digital Stars demonstrates the strong aptitude for continuous updating which means knowing how to increasingly combine the digital world with the physical world and, as the Affari & Finanza article states: 'Probably in no other field is it, in fact, necessary to continuously update results like in the digital one. Technologies are rapidly evolving and those who were at the cutting edge yesterday risk no longer being so tomorrow. The competition is fierce because today anyone who does not properly safeguard their digital status risks losing ground also in the "physical" sphere. The two worlds, or to use a more correct expression, the two channels, are today closely interconnected and their interaction is the true secret of success. This is especially true in the post-Covid world, populated by consumers who are increasingly used to exploiting the potential offered by smartphones'.