IRIS CERAMICA GROUP CELEBRATES 50 YEARS SINCE POLLUTION 1972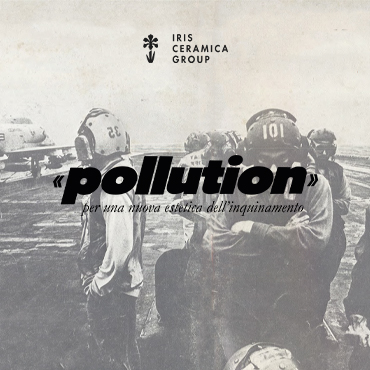 For over 60 years, "Economy=Ecology" has been the principle around which Iris Ceramica Group has built its standing as an Ecopreneur, showing how responsible, sustainable production has always been our priority.
In 2022, we are celebrating the 50th anniversary of Pollution 1972 – For a new aesthetics of pollution: a revolutionary artistic event of the Iris Ceramica Brand (the historical brand of the Iris Ceramica Group) that aims to raise awareness and foster thought on the issue of pollution. In the month of October 1972, in Piazza Santo Stefano,  Bologna, Gianni Sassi, artistic director and the mind behind the whole project, commissioned 26 artists to imagine a panorama of ecological consciousness, narrating as many interpretations of the "ways of managing a mutant nature". For the occasion, the square was paved in 33 x 33 cm ceramic surfaces, each reproducing a lump of earth: the same image was also on the cover of the record "Pollution" by Franco Battiato, released in the same year, and the Italian singer performed there on the last day of the exhibition.
Pollution 1972 was the first step in a long journey telling of our constant commitment to shaping a better future through sustainability, beauty and innovation. The starting point of a journey towards sustainability, as the concept "Shaping the Future", which has always been part of our DNA, tells, and which is also put into practice in projects like Active Surfaces®, Zero Emission and H2Factory.