"ARCHITECTURE AND MITIGATION": THE FIRST WEBINAR OF COMUNITÀ RESILIENTI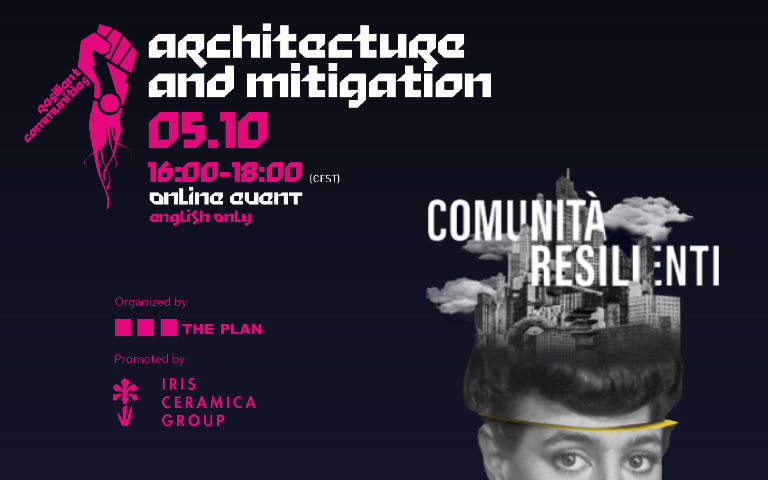 On Tuesday 5th October 2021, from 4PM to 6PM, the first online webinar of Comunità Resilienti "Architecture and Mitigation" will be held within the framework of the 17th Venice International Architecture Exhibition. The event is organized in collaboration with The Plan and Iris Ceramica Group is the Main Sponsor.
Residential buildings, industrial emissions and transport-related emissions are some of the biggest causes of the environmental crisis.
In this context, the architect has a key role in the mitigation of causes of climate change and in the related reduction of CO2 emissions. Architectural design and urban planning are areas on which we can intervene to achieve a meaningful mitigation.
The webinar will involve some of the main international experts and participants will have the possibility to intervene during the Q&A moment.
PROGRAM:
CHAIR: NICOLA LEONARDI | Co-founder & Managing Editor THE PLAN
INTRODUCTION – ARCHITECTURE: Prof. ALESSANDRO MELIS | Curator of the Italian Pavilion
INTRODUCTION – CLIMATE: Prof. ROBERTO BUIZZA | Scuola Superiore Sant'Anna
PANELISTS:
Prof. CHRISTIAN PONGRATZ | Senior Advisor to the Provost and Professor of Architecture at the NYIT (USA)
Prof. MARIO LOSASSO | Univ. Naples; Expert on architecture from Italy
Prof. RICHARD B. ROOD | University of Michigan, Ann Arbour; NASA Exceptional Achievement Medal and NASA Outstanding Leadership Medal
SIMONE SFRISO | TAMassociati