"SHAPING THE FUTURE – THE NEW DAWN OF CERAMICS"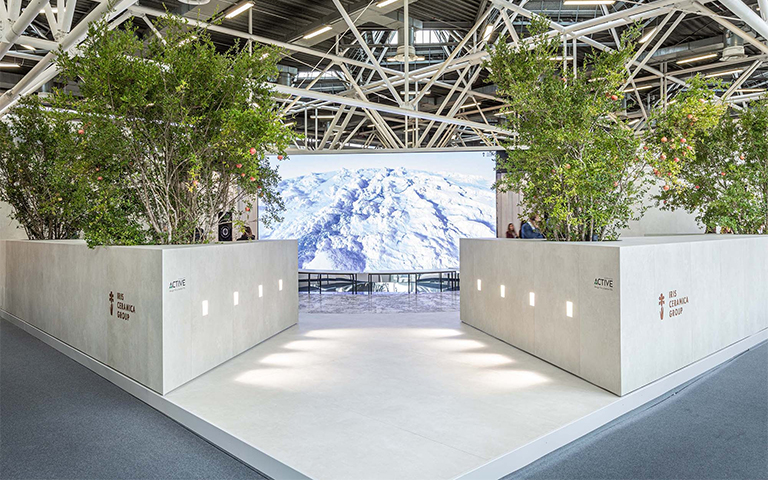 At Cersaie 2022, the concept "SHAPING THE FUTURE – the new dawn of ceramics" tells of the business project of Iris Ceramica Group which, an Ecopreneur and pioneer for over 60 years, aims to build a future shaped around its own values.
From the Booth to the Brand's Showrooms, the Iris Ceramica Group Multi-Site Event accompanies visitors on an imaginary journey to discover the H2 Factory, the new factory that, by the end of 2022, will start operations with a blend of green hydrogen, talking of the innovative and sustainable materials that will be made there: 4D Ceramics.
The guiding thread of the multi-site event, "SHAPING THE FUTURE", is a choral symphony in which each Brand interprets the theme in its own special way.
At the Booth, visitors become an active part of an experience-based narration in which five interactive installations allow them to enter the virtual world of green hydrogen at the touch of the hand. A stage that talks about the H2 Factory, the Proper Name chosen to define the first example of industrial eco-innovation in the ceramics sector.
The journey continues in the Showrooms, where the three "Mirror Cube" installations engage visitors in a video-immersive experience, amplified by the mirrored walls, on a discovery of the world's most sustainable ceramic surface, 4D Ceramics, where the fourth dimension is the Group's values impressed in the material.
The related "Sustainable Conviviality" events are organised respecting the environment and its resources, with particular attention to recycling.
26 to 30 September
At Cersaie (Hall 26 | Booth A188 – B189) and in our Showrooms.